Aberdeen's ~ Black Slavers
North East Merchants were responsible for shipping thousands of Africans to the Americas as slaves.
One slaving venture involved Sir Alexander Grant of Dalvey. In 1748, with Richard Oswald of Caithness and others, he bought an old slaving Fort on Bance Island, at the mouth of the Sierra Leone River. They repaired the Fort partly with money from Oswald's wife, Mary Ramsay. Her father, Alexander Ramsay of Laithers, near Turriff , had left her a fortune from his planting and business ventures in Jamaica. Between 1749 and 1784, Grant and Oswald's employees in Sierra Leone sold over 12,000 African men, women and children to slaving ships.
They did not capture the people themselves. Instead they imported guns, alcohol, metal and cloth to exchange with local kings who brought captives to sell at Bance Island. James Low was an Aberdeenshire Clerk who worked at the Fort. In 1762 he noted that a 'prime healthy slave' cost 65 iron bars – just over £16. He also recorded that nearly 100 captives died each year before they could be sold to slaving ships. They are a reminder of the millions of Africans who suffered from the slave trade without ever leaving Africa.
From Shore to Ship
For most of the captives, the moment of greatest terror was when they found themselves crowded together in the canoes that were to transport them to the ships lying at anchor on the open seas. One slave-ship captain, Thomas Phillips, left this account: When our slaves were come to the beaches, our canoes were ready to carry them off to the longboat if the sea permitted, and she conveyed them aboard ship, where the men were all put in irons, 2 and 2 shackled together, to prevent their mutiny or swimming ashore. The negroes are so wilful and loathe to leave their own country that they have often leapt out of canoes, boats and ships into the sea, and kept underwater till they drowned, to avoid being taken up and saved ... they having a more dreadful apprehension of Barbados than we of Hell ...
Bance Island was one of many fortified trading posts built around the coast of West and Central Africa by Portuguese, Dutch, Swedish, Danish, French and British traders. They were not only used for slave trading, as the Europeans also bought gold, spices, ivory, wood and palm oil in Africa. But the biggest forts nearly always included cells or dungeons where African Captives were kept for months, awaiting sale to passing slave ships. Many of the Forts were large, solid structures, armed with cannons to fight off attackers. Potential enemies included rival European traders arriving by sea. But sometimes African forces attacked from the inland, especially when trading deals went wrong or the Europeans ran short of diplomatic gifts to keep relations running smoothly.
The Africans who were sold into slavery were repeatedly humiliated by the naming practices of their owners. Naming practices for slaves varied, but it was common for planters to give newly arrived Africans a European personal name such as Betsy or Sam. Sometimes these names mocked the slaves' lack of power by being deliberately grand, such as Caesar or King George. The slaves, however, often continued to use their African names among themselves and also passed them on to their children. Some of these names can provide clues to a family's place of origin in Africa. For instance, Cuffee is a variant of the name Kofi. This name comes from the Akan-speaking region of Ghana and is given to a male child born on a Friday. The female variant of it is Phibba. Other personal names of Akan origin include Quashee (Kwasi) for a boy and Quasheba for a girl; Quamin (Kwame) and Mimba; Cudjoe and Juba. Enslaved children who had European fathers often took their father's surname. But slaves were sometimes named after their owner, rather than their father, especially if they were hired out to work for other people. In both cases, a lot of slaves ended up with Scottish surnames.
Dahomey (now the nation of Benin) was one of the largest African kingdoms to arise between the 17th and 18th centuries. Its pre-eminence along the Volta estuary is directly attributable to its trade in slaves to transatlantic markets. By the second half of the 18th century, with 9,000 people being sold annually, slavery had become the kingdom's greatest source of revenue: in 1750, Tegebesu, the King of Dahomey, had an estimated yearly income of £250,000.
---
John Shand and Frances Brown

John Shand (c.1759–1826) was the son of a North East wine merchant. He sailed for Jamaica in the early 1780s, having failed in his first business venture in Scotland. There he became a successful manager of other people's estates and eventually bought four properties of his own. In about 1800 he began a relationship with Frances Brown, with whom he was to have 7 children. Frances was a woman of African and European ancestry who was apparently a former slave from Belmont Estate, one of Shand's properties. According to the slave lists for Belmont, members of her extended family remained in slavery on the plantation. As a free woman and the partner of a wealthy man, Frances Brown had a relatively comfortable life in Jamaica. She received a permanent allowance from John Shand and owned several slaves and a house in Spanish Town. But she paid a high price for her relationship. John Shand left her in 1816 to retire to Scotland and all her children were taken from her at an early age to be raised in Scotland. She had a portrait of each one made when they left her, and, on writing her will in 1834, asked that each child be given their portrait as a memento of her. Back in Scotland, John Shand invested his profits in The Burn and Arnhall Estate near Fettercairn. He expected to die a wealthy man and in 1821 he made a will leaving £5000 to each of his children. But his Jamaican properties were mismanaged and he lost much of his fortune, which means that his children may not have inherited as much as he intended for them. His Scottish Estate was inherited by his brother William Shand who was also a planter in Jamaica.
John Shand, a West India merchant, purchased the estates of The Burn and Arnhall, in 1814, for £70,000, and continued the improvements effected by his predecessors. In 1818 he began operations on the moss of Arnhall. He cut the large drain called the "Muckle Ditch," 2½ miles long, 9 feet deep, 18 feet wide at top and 4| at bottom, as well as many smaller drains running into it at right angles. Upwards of 600 cartloads •of gravel per acre were mixed with the moss to make a proper soil; and thus more than 200 acres of waste ground were converted into productive land. The belts of wood that now adorn the district were planted, and the roads that run alongside were also made. Mr Shand died in 1825, and was buried in the Arnhall enclosure of Fettercairn churchyard. He was succeeded by a brother,. William Shand, who married, in 1827, Christina Innes of Dyce. From the failure of his West India business he became bankrupt, and the Estates were purchased in 1836 by Captain, afterwards Major, William M'Inroy of the 91st Regiment, now the Argyleshire Highlanders, and he latterly ranked as Lieut.-Colonel of the Kincardineshire Volunteers.
Shand's slave-ownership in Antigua was through the family merchant firm. In British Guiana he appears to have been in partnership with Alexander Simpson, with whom he jointly owned plantations Montrose and Ogle. Comparison of the signatures at TNA supports the view that it is the same man. In 1837 William Shand of Liverpool was identified as the devisee in trust and executor of Alexander Simpson deceased. 1841 census shows William Shand merchant aged 57 (born Scotland) living at Childwall, Wavertree, West Derby Lancs., with wife Mary 50 and children Samuel 24, Janette 20, William 22 'broker', Thomas 14 and Alexander 27 'merchant.' Deaths recorded for 2 William Shands in Liverpool in 1848 and 1851. 1851 census shows William W[alcott] Shand (presumably his son, aged 22 in 1841 census, aged 31 in 1851 census) living with wife Elizabeth and Henry Ashton his father-in-law at Much Woolton. The ODNB entry for the writer Alexander Innes Shand shows his father as William Shand of Arnhall, Fettercairn and says 'his father possessed a considerable estate in Demerara, but his income was greatly reduced by the abolition of slavery in the 1830s.' This appears to be a misidentification of the location of the slave Estates: William Shand of Arnhall had slave-property in Jamaica and was bankrupt in the 1830s, and must be the father of Alexander Innes Shand.
Jonathan Troup

- was the son of Matthew Troup of Aberdeen. He graduated in medicine from Marischal College in 1786 and sailed for Roseau in Dominica at the end of 1788. Dr James Clark, also of Aberdeen, had been working in Dominica for many years and he had recommended Troup as an assistant for Andrew Fillan, another Doctor from North East Scotland who had a big medical practice on the island. Troup's diary records many aspects of the lives of the Europeans and Africans in Dominica, including some harrowing accounts of newly arrived Africans who were driven mad by despair. Troup himself was deeply unsettled by life in a slaving society and found it impossible to stick at his work. He was proud of his University education and longed to make his name in scientific circles by
recording noteworthy meteorological events and collecting natural history curiosities. This preoccupation infuriated Dr Fillan and Troup soon fell out with him. In 1791 he returned to Aberdeen to set himself up as a independent surgeon. He died at Corrachree in 1800.
Many African-Scottish children were simply abandoned by their fathers. On 26 March 1791 Jonathan Troup, the Aberdeen Doctor in Dominica, wrote in his diary that his African lover Nancy was pregnant with his child. 'I had to close with her,' he noted, and sailed for Europe that very day.
Both Dr Fillan and Dr Clark have 6 children from mulatto [mixed race] girls who are called always after the man who takes them in keeping. Jonathan Troup describes large African-Scottish families in Dominica, 1789
A portrait of an African-European woman from Dominica,
by Jonathan Troup, 1789.
Two local products regularly shipped to Jamaica were salted herrings and coarse linen cloths called Osnaburgs. Plantation owners stockpiled the herrings to feed their slaves, especially when hurricanes destroyed regular food crops such as maize and plantains. They distributed the Osnaburgs to their slaves once or twice a year as a a basic clothing allowance. Sugar and rum production provided commercial opportunities too. William Forbes was a successful coppersmith from Aberdeen. Among other products, he manufactured sugar boiling pans and rum stills for export to Jamaica. Some of his business contacts in Jamaica came from his sister's brother-in-law,
The Osnabruck area was well known for its linen production. The sought-after "Legge" seal showing the city's emblem, a wheel, became an internationally accepted mark of outstanding quality of the Osnabruck linen. Plagiarism of the stamp occurred many times. In 1618 traders of Hamburg falsified the seal and until the 18th century a Scottish clothmaker's town called itself "Osnaburgh", named after the linen that was produced there. The robust linen of Osnabruck was mentioned in Scottish weavers songs and even in one of the novels of Isabell Allende, slaves in the New World wore the "Osnaburgh linen", so that the town of Osnabruck became famous worldwide.
OSNABURGH, a village, in the parish of Dairsie, district of Cupar, county of Fife, 2½ miles (N. E. by E.) from Cupar
Letter......regarding the Osnaburgs and the consignment of this parcel which we imagine you can be at no loss to dispose of either for the use of your own or Neighbours' Negroes. James Urquhart of Byth, a cousin of William and John, whose son Adam had married their sister, Elizabeth, had founded the manufacturing village of New Byth on his Estates in King Edward Parish in 1764. The intention was to manufacture linen cloth, and he was experimenting with the weaving of Osnaburg, a coarse material much used for slaves' garments. William remarked that, 'this was a trial of manufactory at home which could be abandoned if it did not take.' It did not - a letter of the 5 May in the following year notes that 'Byth's manufactory to be given up', and the Statistical Account of 1792-3 records that: -, A house formerly intended as a linen manufactory, and for some time used as such, distant from the parish church 20 miles, was last year converted into a Chapel of Ease for the accommodation of the people at Byth.
---
William Forbes (1756–1823)
- grew up in Aberdeen where his grandfather had established the family Coppersmith business. While his older brother George kept the Aberdeen branch going, William set up an extremely profitable London Branch. He made much of his wealth from Government contracts to sheath the bottom of naval ships with copper. In 1783 he bought the Callendar Estate near Falkirk, which had been forfeited by the Earl of Linlithgow in the 1715 Jacobite rising. William Forbes' papers are preserved in the Falkirk Council Archives at Callendar House. They detail his many business links with Jamaica. These links were cemented through the marriage of his sister Janet to James Allardyce, the Collector of Customs in Aberdeen. James' brother, Alexander Allardyce, was a merchant and slave trader in Jamaica when Forbes was amassing his fortune. James Allardyce the younger, son of Janet and James, continued the 2 families' Caribbean connection when he went to Jamaica as an estate manager in 1802. Several of William Forbes' other nephews also had Caribbean careers, and one, William Forbes junior, joined a trading venture at Gorée in Senegal, Africa.
William Forbes possessed a fair share of native shrewdness, and. having got a hint that copper sheathing was to be used on the Vessels of the Royal Navy to avert the ravages of the ship toredo worm, he boldly went into the market and bought up all the available copper. When, therefore, the Admiralty advertised for Tenders, Forbes as a Naval Copper Contractor was then able to command his handsome terms. The application of the copper was being found controversial, however, through rapid galvanic corrosion caused by use of iron bolts, he was then able to buy back considerable quantities of copper at a very nominal price. He then proceeded to show in 1783 that all difficulties could be overcome by using copper and zinc alloy bolts; and, the tests which were entered upon having proved satisfactory, the Admiralty again re-bought the copper at a further large profit to Forbes.
Being now in affluent circumstances, he determined to become a Scottish Laird, and the extensive Estates of Callander and Alford being in the market in 1783 (both properties formed part of the possessions of the 'Earl of Linlithgow, but, being forfeited for the part he took in the Stuart uprising, had passed to the York Buildings Company, he went to Edinburgh to make the purchase. On the day of the sale he attended in person, and to the surprise of the Agents, who had no idea who he was, commenced to bid. On the timing of the sand-glass he was deemed the Purchaser at the price of £83,100. The Agents, demanding security, were astonished at the immediate presentation by Forbes of a £100,000 Bank of England Note. It is averred that change could not be obtained readily in Edinburgh, as all the Scottish Banks were reluctant to negotiate such a valuable note. Further particulars regarding this enterprising gentleman will be found in the Family Record of the Name of Dingwall Fordyce,' p. 92; and in D. Murray's "The York Buildings Company," pp. 100-1.
Alexander Allardyce. Allardyce was MP for Aberdeen in 1792–1801, but had previously been a merchant in Jamaica. He had, it was said, 'sold as many black men as there are white in his native city'.
Allardyce, whose father belonged to a cadet branch of an old Kincardineshire family, was admitted an infant Burgess of Aberdeen in 1745 and went early in life to Jamaica. As well as fathering an illegitimate daughter, whom he remembered in his Will, he became 'very rich' through his activities in the slave trade. On his return in about 1780 he bought an estate in Kincardineshire and established himself in the upper echelons of the business communities of Aberdeen and London. He owned Bank of England and East India Company stock and seems to have used his capital mostly for investment and speculation.
Sometimes there was a direct link between slavery and Scotland's whisky distilling heritage. In the 1820s William Shand started distilling whisky at Fettercairn near Laurencekirk using his experience of making rum on his brother's sugar plantations in Jamaica. For at least ten years he ran parallel experiments in Jamaica and Scotland to improve his rum and whisky production.
Alexander Allardyce (c.1743–1801)
- was born in Aberdeen and sailed as a young man for Jamaica to make his fortune. He invested in cargoes of slaves imported to Jamaica, and eventually made enough money to buy one or more plantations there in St Ann's Parish. Allardyce returned to Aberdeen as a wealthy man in the early 1780s. He became Lord Rector of Marischal College and in 1792 was elected as the Member of Parliament for the Aberdeen Burghs. To commemorate his success, he purchased the lands of Dunnottar, near Stonehaven, which had been forfeited by the Earls Marischal in the 1715 Jacobite rising. He built a substantial mansion there - Ury House. This has since been seriously, but a legacy of his Caribbean Wealth survives in the form of Dunnottar Woods, which he originally laid out and planted.
Another reminder of his wealth can be seen in the Kirk of St Nicholas in Aberdeen, where he commissioned the fashionable London sculptor, John Bacon, to erect an elaborate marble sculpture commemorating the death of his first wife, Ann Baxter, in 1787. He himself died in November 1801, aged 58, and was buried in the Kirkyard at St Nicholas.
William Urquhart Esq, of Craigston by Turriff, Scotland. Island of Carriacou Sept 25th 1787
Craigston and Meldrum Estates, Carriacou, 1769-1841
Carriacou, a small island in the Grenadines, lying 12° North of the equator and to the NE of Grenada, measures some 5 miles from N to S, with a width from E to W that varies between 2 and 5 miles. It is hilly, rising to 954 ft at Chapeau Carre in the S, and 955 ft at High North at the northern end of the island. The only town is Hillsborough on the West coast, although there are several widely scattered villages. In the 18th century these villages did not exist except as slave quarters on the estates; apart from Hillsborough the population was concentrated on the plantations. The island, which has always been a dependency of Grenada, had originally been French but had been ceded to Great Britain in 1762. Captured by the French in 1779 during the War of the American Rebellion it was returned to Great Britain under the terms of the Treaty of Paris in 1783. It remained a British colony until 1974 when Grenada became independent, and Carriacou now forms part of the territory of that state. Carriacou was in a fair way to becoming a colony of North Britain, but especially that part of the northern kingdom that lies between the Dee and the Deveron. The principal products of the island were cotton certainly, sugar possibly and, at an earlier
period, some indigo.
In a number of instances families not only traded with, but owned, or held long leases on plantations in the West Indies. A common pattern was for a younger member of the family to manage the overseas investments while the head of the family remained in Britain.
Scottish absentee, awarded the compensation for the enslaved people on the Craigston and Meldrum estates in Grenada. William Urquhart of Craigston died March 1847 and was the great-grandson of William Urquhart of Meldrum. According to Rubinstein, the East Indian banker George Arbuthnot was the son of Robert Arbuthnot and Mary Urquhart (c. 1743-1818), daughter of Capt. John Urquhart of Cromarty and Craigston.
The prosperity of the island, as with so many of its neighbours ended with the emancipation of the slaves in 1838. Emancipation itself was not the cause but it was impossible with free labour to compete with the sugar and cotton being produced by the slaves of Cuba and the southern United States, or by the indentured labourers of Guiana, whose condition was really little better than slavery. Even this might have been countered had Sir Robert Peel not introduced his free trade budgets in the 1840s, which ended the high protective duties against slave grown sugar, contrary to his own pledge; 'But when', to quote Anthony Trollope, 'did Sir Robert Peel's pledge in 1 year bind even his own conduct in the next?'. When he wrote this, Trollope's sympathies were with the white planters, but the suffering and poverty of the freed slaves, resulting from this policy, were probably greater. What survived Peel was finally destroyed by the development of the European Sugar Beet Industry.
I own I am shock'd at the purchase of slaves,
And fear those who buy them and sell them are knaves;
What I hear of their hardships, their tortures, and groans;
Is almost enough to draw pity from stones.
I pity them greatly, but I must be mum,
For how could we do without sugar and rum?
Especially sugar, so needful we see?

What? give up our desserts, our coffee, and tea! - by Cowper
In 1787, Robert Burns planned to go to Jamaica to become a 'negro driver' (see Resources/Books – Letter to Dr. John Moore – and The Slave's Lament). Instead he became a famous poet. But, what if his poems had not been published? What if he had gone to Jamaica as an unknown, impoverished, young man? Would he have endorsed the slave trade system or not?
Iain Whyte; Scotland and the Abolition of Black Slavery 1756-1838; 2006
Geoff Palmer; The Enlightenment Abolished; 2007
Joseph Mallord William Turner
---
Monuments to Slavery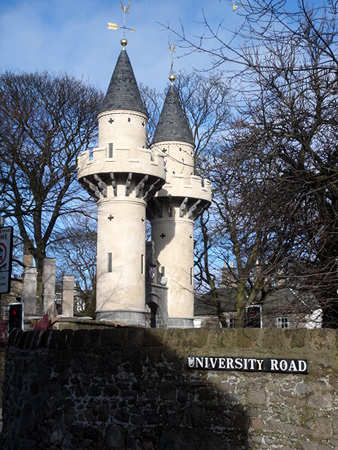 Powis Gateway, Old Aberdeen. These curious towers stand at the gate leading to Powis Lodge, almost opposite King's College, Old Aberdeen. They were constructed by John Leslie of Powis, who succeeded his father, Hugh Fraser Leslie of Powis, the builder of Powis House (1802), which was partly demolished in connection with the Powis Housing Scheme of 1930. John Leslie succeeded his father in 1812, and the singular gateway, with the "minarets", dates from about 1830. The towers were finished in 1834. The crescent on the top of one of the towers is the crest of the Frasers, the predecessors of the Leslies in the property of Powis."
c. 1830. Powis "minarets", Old Aberdeen. Towers finished in 1834. Built by John Leslie of Powis.
Powis Gates were erected in 1834 by John Leslie and have a design that could have been inspired by Turkish Architecture. Partly stone, partly harled brickwork, the skinny minaret-like towers are capped with slated turrets bearing gold-leafed orbs and crescent finials; the crescent being part of the Fraser Leslie coat of arms. Original construction coincided with the Slavery Abolition Act of 1833 that outlawed slavery in the British Colonies from 1 August 1834, and a shield at the back of the gates carries busts of 3 black slaves commemorating the freedom of (or profit from) slaves on the family's Jamaican plantations.
Powis House was built Hugh Fraser Leslie of Powis, the owner of the Powis estate which formerly lay behind them. The Fraser Leslie Arms are visible on the obverse of the arch, with a shield on the reverse showing the bust of the black men - a link to the family's involvement in a grant of freedom made to their Slaves in Jamaica. The entrance now leads to the University's Crombie-Johnston and King's Postgraduate Halls of Residence.
Hugh Fraser Leslie was born 17/07/1802 and baptised 31/07/1802 in Old Machar, Aberdeenshire, Scotland, son of Hugh Leslie and Anne Agnes. Hugh Leslie and Anne Agnes Lamond has married at Old Machar, 02/08/1788. They had at least 13 children baptised in Old Machar, 1791-1808. Leslie registered his own enslaved people in Jamaica when aged 24 yrs in 1826 and 1829 and was a vestryman in Port Royal, Jamaica in 1839. Leslie gave evidence to a special committee of the Jamaica Assembly in 1847: "... in that year, 1847, he was in possession of several coffee and sugar plantations, including several in the Yallahs region: Sherwood Forest, Arntully, Eccleston, Brook Lodge, and Belle Claire. In addition, Leslie was also in possession of Petersfield, Newfield, Munts, Grove, and Leith, all coffee plantations, and Delve, a sugar estate. He reported that prior to emancipation, a total of 1268 workers were attached to these plantations. By 1847, there were fewer than 400." He was living in Powis House from at least 1851 until his death in 1873.
Hugh Fraser Leslie died intestate. His sisters Isabella Jane Leslie and Helen Leslie were his executors dative. His inventory was registered at Aberdeen Sheriff Court by Isabella and mentions his other 2 sisters Esther Leslie and Christian Leslie as his other next of kin (SC1/36/73 Aberdeen Sheriff Court). Total value of personal estate in the United Kingdom £10,695 12s 10d. Including: Household contents £505 16s 8d; Balance due by the British Linen Company on Account Current plus interest £2173 19s 5d; 100 shares in the Colonial Bank @ £60 per share plus dividend £6225; £500 in 5pc preference stock of the Great Eastern Railway 1863 valued at £502 6s 4d; 100 original shares of the Bank of Queensland on which no value can be put; 50 shares of St Thomas Dock Company Limited on which no value can be put; 100 shares of the Panama New Zealand and Royal Mail Company and also 100 new shares of the same company on which no value can be put. The remaining valuation is largely for rents due, feu duties and grass rents.
Powis House - A 2-storey Neo-Classical mansion on Powis Circle in NW Aberdeen, Powis House was built by Hugh Leslie of Powis in 1802. The house was later associated with the Arbuthnot family and politician Sir John Arbuthnot of Kittybrewster was born here in 1912. Its estate was developed by the local authority to form public housing in the 1930s and the house opened as a Community Centre in 1941. The remarkable Powis Gate, which once formed a grand entrance to the estate, are preserved to the east within the modern campus of the University of Aberdeen. The ghost of a lady is said to haunt the house.
The former slaves received no compensation for their years of unpaid labour and suffering. Slave Owners, however, were compensated for the loss of their 'property'. The payouts varied from colony to colony and the value of slaves to their owners was individually assessed, but in total the British Government authorised that £20M be given to the slave owners. This was a huge sum; in terms of Britain's national earnings today, it would be about £60 billion. An Aberdeen recipient of compensation money was Agnes Anne Lamond, the widow of Hugh Leslie of Powis. In 1834 she received a payout of £2,065 for her former slaves at Castile Fort Pen in Jamaica. Some of the money was used to pay off legal debts, but her eldest son, John Leslie, also used a substantial chunk of it to pay for Powis Gate an ostentatious entrance to the family estate he was building in Old Aberdeen.
---
The building of Cairness House was financed by the income from the Gordon's Plantations in Jamaica. The building, which according to 'The Howes' , 'has some pretentions both to age and beauty was built from the designs of (James) Playfair and finished in 1799. The architecture is Grecian and it is said that above £25,000 was expended in its erection. The main structure is of greenstone, quarried in Rora; but the porch is of Cairngall granite. The building was erected by Charles Gordon, Esq of Buthlaw....The interior of the house is a perfect specimen of art'
Slave Compensation claim by Jacob Rogers, attorney of Robert C. Gordon and son, owners-in-fee. An affadavit of Robert Charles Gordon was received on 03/01/1842, stating that the Robert Charles Gordon junior signing the Power of Attorney is the same party named in the claim as the 'son' attached to the Power of Attorney.
A girl began work around age 4, collecting grass to feed the mules and oxen.
By 10 she was weeding the cane fields, and by 18 she was planting and harvesting the canes.
By 40 she was worn out, and was sent back to feeding the livestock.
If she survived a few years more, she became a nurse to the babies on the plantation –
A new generation of workers that probably included her own grandchildren.
This was the life lived by a slave with a relatively mild owner, such as Thomas Gordon of Buthlaw and Cairness. In 1796 he inherited Georgia Estate in Jamaica with over 200 slaves. He disliked slavery, but he was not prepared to free his workers. Instead he tried to be a kind, sympathetic master. But Gordon's workers wanted freedom, not kindness. Many joined in the big Jamaican slave rebellion of 1831–2, including 5 men who were punished by life in prison.
Rt. Rev. William Skinner
, Bishop of Aberdeen received compensation for the loss of slaves
Alexander Jopp - Advocate in Aberdeen in an announcement concerning the Estate of deceased Andrew Jopp, Advocate, of which Alexander was Trustee and Executor and, with Henry Lumsden of Tilwhilly and Alexander Stronach, as trustees of the creditors of John Morison (q.v.) of Auchintoul. An announcement in 1844 concerning the Banff and London Shipping Company characterised the 3 as 'being the surviving trustees appointed by the late John Morison of Auchintoul'. - re Post Slavery Abolition Compensation
---
Few Scottish Women went to the Caribbean
Their men-folk had relationships instead with women of African origin or descent. Thousands of children were born from these interracial relationships. The men almost never married their African partners, although sometimes a man would buy the freedom of his enslaved lover. If he did not, he would have no rights over his children. By law, a child born to an enslaved woman belonged to the woman's owner, regardless of who the father was. Often it was the custom for the children to use their father's Surname. If they were born free and had a fairly light skin colour, their fathers often sent them to Scotland for education. Ebony wives and mahogany children
Britain's slaving colonies in the Caribbean were extremely conscious of racial difference. They defined people by the colour of their skin and their biological heritage. These differences were enshrined in law and affected people's legal rights. Europeans controlled the political processes and had the most economic and social power. Below them on the power ladder were 'free people of colour'. These were people of joint African and European ancestry who either had been born free or had been manumitted (freed) from slavery. After them came a very small population of 'free Blacks' or 'free Negroes' – Africans who had also been freed from slavery. Finally there came the slaves themselves – the majority of the population.
Even among slaves, however, a racial hierarchy prevailed. Slaves of mixed African-European descent had a higher status than African slaves. They were most likely to be employed as domestic servants and skilled workers, while the Africans were more likely to be forced to labour in the fields. The range of distinctions meant that it was never a simple case of 'white people' versus 'black people'. Many of the 'free coloureds', people of joint African and European ancestry, identified with the European minority rather than the African majority, because the Europeans had more power.
Slave societies used a precise terminology to define these racial differences. For example, the term 'Mulatto' meant a child born to a European and an African. The term 'Sambo' meant a child born to an African and a Mulatto, while 'Mustee' indicated a child born to a European and a Mulatto. These terms are considered offensive today and are no longer in common use. Historians use them, however, to try to understand how slave societies worked and why Europeans viewed dark-skinned peoples as inferior to themselves.
Caribbean Plantations Owned by North East Scots
Many North East families owned plantations in the Caribbean in the 18th and 19th centuries. In some cases, the young men who went to the Caribbean had no land or money to their name when they left Scotland. If they did well in the Caribbean they bought one or more plantations there. When they had made enough money, they sold up their properties there and bought an estate in Scotland, where they retired to live as landed gentlemen.
A complete list of the Caribbean properties owned by North East Scots would be very long. The following includes some of the better known estates:
Dr William Bremner - Dominica – Dawn, Aberdeen
Dr James Clark (d. 1819) of Aberdeen - Dominica – Clark Hall, Mount Pleasant
Thomas Cumming of Inneshouse - Grenada – Kelty, Garden of Eden
Alexander Forbes (fl. 1740s) of Aberdeen - Jamaica – Aberdeen
Alexander Farquharson (d. c.1838) of Belnaglack - Jamaica – Job's Hill
James Gardiner (d. 1825) of Banff - Jamaica – Swanswick
Dr Alexander Gordon (d. 1801) of Elgin - Tobago – Belmont
Charles Gordon (1749–1796) of Buthlaw & Cairness - Jamaica – Georgia
Sir Alexander Grant (1705–1772) of Dalvey - Jamaica – Albion, Berwick, Charlemont, Crawle, Dalvey, Eden, Epsom, Rio Magno
Sir Archibald Grant (d. 1778) of Monymusk - Jamaica – Monymusk
Charles Irvine (c.1720–1794) of Aberdeen - Jamaica – Friendship
Dr James Laing (d. 1831) of Haddo & Auchleuchries - Dominica – Union, York Valley, Macoucherie
Dr Alexander Murchison of Elgin - Jamaica – Springfield
James Murray (died. c.1856) of Aberdeen - Jamaica – Lottery
John Shand (c.1758–1825) of The Burn, Fettercairn - Jamaica – Belmont, Kellitts, Mamee Gully, Clifton Pen
William Shand (1776–1845) of the Burn, Fettercairn - Jamaica – The Burn, Hopewell, St Toolie