Clipper Ship Salamis
- Iron Sister Ship to the Thermopylae
Built as an iron clipper by Walter Hood & Co. Aberdeen for the Aberdeen White Star Line (George Thompson & Co., Aberdeen, Scotland.) May 1875 launched as the SALAMIS.
Tonnage 1130 gross, 1079 ton net, dim. 221.6 x 36 x 21,7ft.
Not fitted out to carry passengers. Ship rigged.
She was of iron, 1079 tons and built on the lines of the Thermopylae with a few minor alterations.
No expense was spared in her construction. The yellow stripe round her green hull was not painted but gilded. George Thompson had a fleet of clippers and when
Samuel Plimsoll
was pleading his bill in parliament for a loading line, he named Thompson's as one firm that never loaded their ships deeply; he returned the compliment by calling his next ship Samuel Plimsoll. Thompson thought of calling his next ship Sarah Plimsoll (a bit of Victorian brown nosing) but she was built as a sister ship to the Thermopylae so was accordingly named
Salamis
- the two names commemorating the ancient Greeks' twin land and sea victories over the Persians.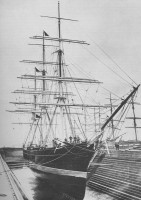 It was intended that the
Salamis
would have the same round trips as the
Thermopylae
, out to Melbourne with general cargo and then across to China and home again with tea. On 6 July 1875 she left London under command of
Capt, Phillips
bound for Australia. Making only one tea voyage after her second voyage to Australia when she sailed from Melbourne to China and with a cargo of tea sailed home from
Hong Kong
in 110 days. But by
1875
steamers had got hold of the tea trade and most of the clippers were put into the Australian wool trade. General cargo out, wool home. As a wool clipper she set a wonderful record when she made 13 voyages home from pilot to pilot in an average passage of 75 days, and outward in 77 days.
1894
Captain
R.B.B.McKilliam
took over command. She was used mostly in the trade to Melbourne till she wa
s sold.

As a wool clipper. Salamis set up a wonderful record, averaging 87 days for 18 consecutive wool passages. She was sold to the Norwegians and in 1905, her 30th year, was wrecked in the South Pacific. The end of a beautiful ship.

Salamis Model

SALAMIS (c1905) Iron Full-rigged ship; Built: 1875. Launched May 1875. Builder, Walter Hood & Co, Aberdeen.
GRT: 1130. NET: 1079. NET UNDER DECK: 1021. Dimensions: 221'6" X 36' X 21'7".
British Registration No.70443. Wool Clipper – not fitted for passengers.
Owner: George Thompson & Co for the Aberdeen White Star Line.
Captains: Capt Holmes on maiden voyage to Melbourne, best passage of 68 days; London - Port Phillip Heads.
1875-1894 Capts Phillips, Senior & Junior. 1st & 3rd Mates were also sons of Capt Phillips at one time or another.
1894-1898 Capt.R.B.B.McKilliam.
NORWAY: 1898: Sold to Leif Gundersen of Porsgrunn, Norway and used to run guano cargoes from the South Pacific.

HISTORY: Named from Greek Island of Salamis with reference to The Battle of Salamis, 480BC. Iron and extended version of her sister ship, Thermopylae, from drawings and design of Bernard Waymouth. 1875 saw the finest of the iron clippers launched and Salamis was no exception. Equipped with H D.Cunningham patented lower yard braces developed post 1861 which tighten the luff of the sail, from the deck.

WRECKED: 20th May 1905. Atoll, Malden Island, South Pacific 4 degrees S 155 degrees W. Kiribati Group.
SALAMIS (c1905) Iron Full-rigged ship; Built 1875. Launched May 1875. Builder, Walter Hood & Co, Aberdeen. :
'SALAMIS' Built 1875. Iron ship of 1079 Tons. Length; 221.6 ft. Breadth; 36 ft. Depth. 21.7 ft. Built by Hood of Aberdeen for George Thompson and Co. Master; Captain Phillips Snr. She was built on the same design as that most wonderful and fastest of clippers, 'Thermopylae'. She was about 100 Tons heavier and 10 feet longer but she also was a very speedy ship. She was sold to the White Star Line for use in the Australian passenger trade and after very good service, was sold to the Norwegians. They converted her to a barque and they eventually wrecked her on the 20th

of May 1905 on Malden Island in the South Pacific. [White Star Passenger Liner]
Steamship Salamis ll
---
The steel-hulled barque Alexandra was built in Aberdeen in 1874 as a wool-clipper. During her last five years she transported coal from Australia to Panamá. She was abandoned becalmed in the region of the Galapogos Islands with a full cargo of 2300 tonnes of coal. She was found wrecked and broken in two.