George Street
A new and important exit to the North West was formed by opening George Street through the middle of the Loch, to communicate with a new turnpike road to
Inverurie
.
George Street was nearly a mile long starting at the junction of
Causeway End
and ending in the
City Centre
at the junction of
St. Nicholas Street, Union Street and Market Street
, and which was also the terminus for the
Woodside
trams.
The old
Tannery Lane
was incorporated into the new street plan
George Street
is a mixture of 3 storey tenements, shops, bars and small industries including stone and iron masons. At the junction with
Hutcheon Street
was the huge
Broadford Works
, a
Jute mill
that employed thousands. Its high red-bricked chimney remains a city landmark. However, today,
Broadford
works is now a huge block of flats with expensive penthouses on the top, with typical 'American' style security staff.
The City Abattior or Slaughter House
was also adjacent to
Hutcheon Street
near the
Butchers Arms Pub
where the gutters ran with
O
xblood Gore
. Normal street scenes involved
cattle being driven
down George Street in the days when the
Kittybrewster Mart
and the slaughterhouses operated nearby
.

Over the course of the 19th century,

factory slaughterhouses

replaced the hand-slaughter of livestock by

individual butchers

, who often performed this task in back rooms, letting blood run through streets. A wholly modern invention, the centralized municipal slaughterhouse was a political response to the public's increasing lack of tolerance for "dirty" butchering practices, corresponding to changing norms of social hygiene and fear of meat-borne disease.
Just beyond
Schoolhill
is where
George Street became St. Nicholas Street
,
George Street
now terminates here having been cut short by the new
St. Nicholas Shopping Centre
. A City Fathers Folly - what a way to treat a town. It has killed the heart of the main shopping centre and destroyed some of the most atmospheric buildings in the city and a convenient thoroughfare in favour of tortuous
Crooked Lane
and tedious diversions after shopping hours.
George Street was a main Shopping Centre -
starting with Clothing shops in the St Nicholas Street end M&S, Collier, Burtons, Jackson the Tailors, Little Woolworths, Jerome.s Photography Shop, then Martin the Butcher, the Rubber Shop, Isaac Benzie, C Bruce Millers, Connans Hairdressers, Aberdeen Trades College was prominent, Cinemas - The City, The Grande, The Kings and much Industry was quite adjacent.
In 1894, Isaac Benzie, who had served an apprenticeship in the general merchant's shop in the village of Oyne, established a shop of his own at 185 George Street, Aberdeen. He subsequently moved to bigger premises in Gallowgate, opened a Hosiery Factory at Concert Court and founded branches throughout Aberdeen. Benzie's 2 sons, Athol and Isaac, both served apprenticeships with the family business. In 1922, the business was incorporated as a limited liability company, Isaac Benzie Ltd to carry on the business of Isaac Benzie at 143 to 167 George Street, Aberdeen and at various Branches throughout the City. Isaac Benzie died in 1926 and his sons, Isaac and Athol, carried on the business. Isaac junior died in 1935. Athol retired for health reasons in 1955 and the company was taken over by House of Fraser Ltd. The store continued to trade under its own name until 1972 when it was renamed Arnott. Inset is shop at 75 Victoria Road, Torry.
Benzie, Isaac, Hosiery Manufacturer and General Draper, Central Warehouse, 19 George Street and Branch :185 George Street, 48 and 50 Justice Street, 29 Gallowgate, 177 Rosemount Place; Hosiery Factory and Store, 27 Gallowgate, Concert Court.
A David Millar married Jane Benzie in 1864. They had 5 children David Millar born 1872, Samuel 1864, Jane 1861, John (Jack) 1868 and William 1866. Some were born in Tough other in Echt and Muchalls. David born 1872 was both harrier and pole jumped in the Highland Games) - according to my husband's grandmother. - A Bavidge
No's 18-20 and 22-28 Loch Street, Clydesdale, electrical goods, Target Discount and Bruce Millers had all closed in preparation for demolition for the Bon Accord Centre. Charles Bruce Miller first opened his music shop in 1900, and he was succeeded by his sons and grandsons as the company prospered. They moved from 51-53 George Street to purpose designed premises in Loch Street in May 1977 where they had 4 floors catering for the growing trade in TV's, music centres as well as musical instruments. In 1983, they moved to a new location at the west end of Union Street.
Turkish Baths - 49b George Street - Opened 1886 lessee David MacKay, Subsequently fully managed by MacKay in 1869
Turkish Baths - 77 George Street - Opened 1886 Proprietor John McKenzie till 1896.

John Martin, Butcher, had been in business in 29-31, George Street for nearly 100 years. (Meat to Please You).
The original John Martin opened this shop after having been manager in the Butchery Department of the Northern Co-operative Society. He retired in 1932 and the business was carried on in the same name by his 2 sons. This shop ceased trading Saturday 11 April 1987. The flats above these shops had been renovated as accommodation for students at Robert Gordon's Institute of Technology (now The Robert Gordon University).
Rubber Shop - at 12-15 George Street in their last days before being demolished. The Rubber Shop had been in business in the City since 1890 when its founder, George Fowler opened premises at 16 - 18 St Nicholas Street called the London Rubber Company, supplying waterproofs, sports goods, hosepipes, washers etc. This expanded into a wide variety of toys and leather goods. In 1945, they moved from St Nicholas Street to premises in George Street where they continued to sell toys, sports equipment, china and fancy goods until July 1986.
Birnie was the name of a Ladies Hat Shop or Milliners in George Street that would later become "the Rubber Shop" and right next-door to Birnie's, at number 10A, was also a Buttercup Dairy shop.
George Street and Loch Street in the 1970s. Far left, corner of the new Co-op building (1970); left background, St Paul's Street School (then Aberdeen Education Authority's Music Centre); centre, the Swan Bar, Post Office, The Buttery (A B Hutchison - Bakers). All demolished for the well known Road Barricades - the Bon Accord Centre and St Nicholas Centre. In the 50's the former Home and Colonial store was at the Buttery site.
A.B. Hutchison (Central Bakery) Ltd. is listed in the 1952-1953 directory with shops at 123 and 483 George Street and the bakery in Crooked Lane. There were shops on the Broad Street, Gallowgate, Crown Street, Rosemount Viaduct, Holburn Street and King Street.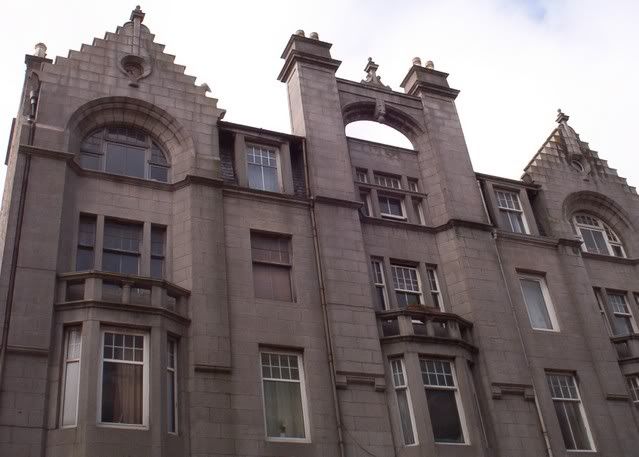 The aptly named Butchers Arms Pub on the corner of Hutcheon Street and George Street - The Abattoir premise straddles the 2 streets behind the pub and the poor cattle are on the way to slaughter under the Herdsman's caring hand. The west side gutters of George Street used to run with gore from the interior. McEwans beer is on sale and my dad would alight from the Northfield bus to imbibe here before walking into town.
William Murray applied for a building permit for a tallow market in Aberdeen in 1874,
and this appears to have been the 1st such market in Aberdeen, which was a notable cattle town in Scotland. The Murray family went on to develop the Aberdeen Hide and Tallow Company from their own business, which seems to be related to the later Aberdeen Hide, Skin and Tallow Market Company (either as the same company, or the parent or holding company of it). In 1908 this company applied for a building warrant for the erection of a tallow market on the north side of Hutcheon Street, and also appears to have had offices in Dingwall in the Highlands. The Aberdeen Hide Market was still operational during the investigation into warble fly infection affecting cattle in 1935, and there are court cases involving this company by name in 1930 and 1961 in the National Archives of Scotland. It appears to have been absorbed by Grampian Country Foods (probably in 1996, prompting the name change), and then liquidated when this company was in turn bought out by Vion Foods UK in 2008.
There were the

Grand Central and City Cinemas. The "Grandie" is long gone and re-built as a Tenement of flats. The City Cinema remains as such, being the 1st to be turned into a Bowling Alley in the 60's. It was the largest cinema in the City with 2 entrances. However much of the rear of the building has now been demolished.