The Skene's of Skene


A
surname derived, according to the following tradition, from the word Skian, gaelic Sgian, a dagger, dirk, or knife.
King Malcolm II
., on his return south from the defeat of the
Danes at Mortlach
in Moray, in
1010
, was pursued by a ravenous wolf, through the wood of Culblean to the
Forest of Stocket
near

Aberdeen
, where the fierce animal came up with, and was about to attack him, when a younger son of
Donald of the Isles
, or as Sir George Mackenzie states, of
Robertson of Struan
, seeing the King's danger, thrust his left arm, round which he had wrapped his plaid, into its mouth, and with his dirk stabbed it to the heart. The King, in return for this service, gave him all the lands that form the
Parish of Skene
, Aberdeenshire.

The King is said to have been
Malcolm Canmore
, while hunting in that district, and

the animal
is designated a Wild Boar.
The armorial bearings of the Skene family have
3 dirks
, with as many wolves' heads above them, the shield supported by 2 Highland men, the 1, dexter, in a gentleman's

dress

, holding a dirk in his right hand, point upward, the other, sinister, in a Gillie's habit, his target on the left arm, and the darlach on the right side. The

reward

offered by the King is said to have been as much land as was encompassed by a
hound's chase
or a
hawk's

flight
. The young Celt wisely preferred the latter. His
Dirk
was long preserved in the charter chest of the family at
Skene
. The
Barony of Skene
formed a portion of the extensive possessions of
Allan Durward
, who died in
1275
, and it is conjectured that
John de Skene
, afterwards mentioned, obtained that estate in

marriage

with one of his 3 daughters, co-heiresses.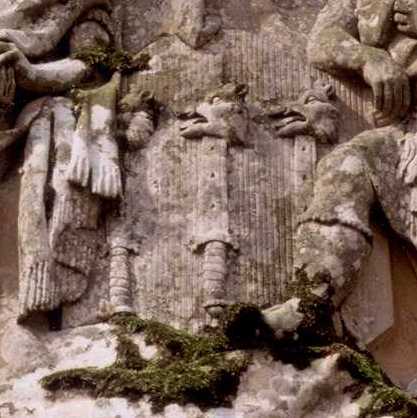 The seat of the head of the family was Skene Castle later called Skene House (central tower built 1217), near the village of Lyne of Skene, West of Aberdeen
---
Sir George Skene 1666~1708
Skene's father died when he was just 12 and his brother took him to Danzig (Gdansk-Poland) where he became an apprentice to another Aberdonian Merchant George Aedie. Skene went on to make his fortune in Baltic trade.
George Skene 1666-1708, inherited Rubislaw. He married, 2ndly, a lady of the name of Seton, and had by her a son, George, who realised a large fortune, and purchased the Estates of Wester Fintray and Rubislaw.
Under the designation of George Skene of Fintray, he was Provost of Aberdeen from 1676 to 1685. He was afterwards Knighted. He was succeeded by his grand-nephew, George Skene, above mentioned, grandson of Thomas Skene of Pollerton. The son of this George Skene of Rubislaw, also George Skene of Rubislaw, had an only son, another George Skene of Rubislaw, who married Jane, 1 of the daughters and co-heiresses of James Moir of Stonywood, and had by her 2 sons and 3 daughters. The elder son, George, died, unmarried, 30th September 1791, while on his way to take possession of his paternal estate. James Skene, the younger son, the Artist friend and correspondent of Sir Walter Scott, succeeded to Rubislaw. The daughters were, 1. Margaret, the wife of Colonel Ramsay, with issue. 2. Helen. 3. Catherine, married to Sir Henry Jardine, with issue.
George Skene, Professor of Philosophy and Regent of King's College. (Regent) George Skene of Rubislaw was born in 1666 and was the grand nephew of Provost Skene, (one of the owners of Provost Skene's House). Regent Skene became a Professor of Philosophy at King's College at the age of 20 and married his cousin Catherine Adie, they lived at an old House opposite the college. Provost Skene never married but had 2 nephews whom he brought over from Poland. However, they turned out to be dissolute gamblers and Skene disinherited them. Instead, he left the Skene Estate, including the house, to the most respectable member of his family, Regent Skene, who succeeded to the Skene estate in 1707.
Provost Skene's House

---
James Skene ~ Advocate, Antiquarian, & Artist
James Skene was born in Aberdeen on 7 March 1775 and died in Oxford on 27 November 1864. He was an amateur artist and etcher; youngest child and 2nd son of the Laird of Rubislaw. His father died when he was one year old and in 1783 the family moved to Edinburgh, where Skene made his 1st sketches. In 1791, after the death of his elder brother, Skene succeeded to the family Estate in Aberdeen and studied Law, instead of becoming a professional Artist. He became friends with Sir Walter Scott who described him as 'an amiable and accomplished young man, and for a gentleman the best draughtsman I ever saw'. In 1802 Skene toured the continent, making sketches and keeping diaries. After his marriage in 1806 he settled near Banchory until 1816, when he and his family moved to the New Town of Edinburgh. He was made Secretary of the Royal Society and member of the Society of Antiquaries. Scott continued to encourage his talent for illustration, intending to publish a descriptive volume on Edinburgh. Skene and Scott toured the Borders for scenes to illustrate the Waverley Novels. Having spent some years living in Greece, Skene finally moved to Oxford.
JAMES SKENE (1775–1864), friend of Sir Walter Scott, 2nd son of George Skene of Rubislaw, near Aberdeen, and his wife Jean Moir, was born at Rubislaw on 7 March 1775. The family descended from Thomas, brother of Sir George Skene, a Danzig Merchant who, returning to Scotland with a fortune, bought the Estate of Rubislaw, was Provost of Aberdeen for 9 years prior to the revolution of 1688, and died in 1707. Sir George left Rubislaw to George Skene, the grandson of his brother Thomas, and James's father. George Skene died in the year following the birth of his son James, and in 1783 his Widow settled in Edinburgh, with a view to the education of her 7 children. James attended the Edinburgh High School. An elder brother dying in 1791, he became Heir of Rubislaw. When 21 he then resided several years in Saxony, where he obtained a thorough knowledge of the German language, and accumulated an excellent collection of German books. He was admitted to the Scottish Bar in 1797. On his return to Edinburgh, about the end of 1796, Sir Walter, then Mr. Scott, "requested to be introduced to him by a mutual friend, Mr Edmonston of Newton; and their fondness for the same Literature (the German) with Scott's eagerness to profit by his new acquaintance's superior attainment in it, thus opened an intercourse which general similarity of tastes soon ripened into the familiarity of a tender friendship." "Among the common tastes," he continued, "which served to knit these friends together was their love of horsemanship, in which, as in all other manly exercises, Skene highly excelled; and the fears of a French invasion becoming every day more serious, their thoughts were turned with corresponding zeal to the project of organizing a force of mounted volunteers in Scotland." Of the Edinburgh Light Horse, thus raised, Mr. Skene of Rubislaw was one of the Cornets, and Mr. Scott at 1st Paymaster, Quarter-master, and Secretary. Both were ardent horsemen, and each loved natural scenery in his own way. In 1797 Skene became Cornet of the Edinburgh Light Horse, the Regiment largely organised by Scott, who was himself its Quartermaster, Secretary, and Paymaster. Skene (said Scott) 'is, for a gentleman, the best draughtsman I ever saw'. The dedication to Skene of the introduction to 'Marmion,' canto iv, is charged with reminiscences of their common interests.
In 1802 Skene revisited the Continent and stayed several years. Greenough, President of the Geological Society of London, whose influence stimulated his friend's geological tastes, was his travelling companion for a time, and he became a member of the Geological Society. Returning to Edinburgh in 1816, he joined various Literary and Scientific societies, which he did much to improve. In 1817 he became a member of the Royal Society of Edinburgh, and was for long the Curator of its Library and Museum. He helped to stir the Scottish Society of Antiquaries into new life. For many years he was Secretary to the Board of Trustees and Manufactures, actively fostering the taste for Art in Scotland. All along he was in constant and close contact with Scott. In 1822 Mr. Skene visited France, and on his return was enabled to furnish his friend Sir Walter Scott with the materials for his romance of Quentin Durward. He was an excellent Draughtsman, and in the course of his tour "he had," says Lockhart, "kept an accurate and lively journal, and executed a vast variety of clever drawings, representing
landscapes and ancient buildings, such as would have been most sure to interest Scott, had he been the companion of his wanderings. Mr. Skene's collected works were placed at his disposal, and he took from 1 of their chapters the substance of the original Introduction to Quentin Durward was inspired by Skene's intimate knowledge of France. Mr. Skene also suggested some of the Jewish scenes in Ivanhoe. In Scott's Diary, under date, Abbotsford, 4th January, 1826, there is the following notice of Skene and his wife:-
"Mr. and Mrs. Skene, my excellent friends, came to us from Edinburgh. Skene – distinguished for his attainments as a draughtsman, and for his highly gentlemanlike feelings and character – is Laird of Rubislaw in Aberdeen. Having had an elder brother, his education was somewhat neglected in early life, against which disadvantage he made a most gallant fight, exerting himself much to obtain those accomplishments which he has since possessed. Admirable in all exercises, there entered a good deal of the cavalier into his early character. Of late he has given himself much to the study of antiquities. His wife, a most excellent person, was tenderly fond of Sophia (Scott - Inset). They bring so much old-fashioned kindness and good humour with them, besides the recollection of other times, that they must be always welcome guests."
Owing to indifferent health of some members of his family, Skene went to Greece in 1838, staying for several years near Athens, in a villa built to his own design. Here, as at home, he busied himself with Art, and he is said to have left over 500 water-colour drawings of Grecian scenery and antiquities. Returning in 1844, he settled 1st at Leamington and then at Frewen Hall, New Inn Hall Street, Oxford, where he enjoyed the best Literary Society. He died there on 27 Nov. 1864.
In 1806 Skene married Jane Forbes (1787–1862), 11th September 1806 youngest child of Sir William Forbes 6th Baronet of Pitsligo, with issue, 3 sons and 4 daughters. Her brother, Sir William, 7th Baronet, married, in 1797, Scott's 1st love, Williamina Stuart.
George, the eldest son, born in 1807, married in 1832, Georgina, daughter of Dr. Alexander Monro of Craig Lockhart, with issue. Henry, the 3rd son, at one time an officer in the Army, married, in 1853, Rhalon, daughter of Rhizos-Rhangale, niece of the last reigning Prince of Wallachia.
Mrs. Skene, like her husband, was highly respected by Scott, who writes of her that she was 'a most excellent person, tenderly fond of Sophia.' 'They bring,' he adds, 'so much old-fashioned kindness and good humour with them that they must be always welcome guests.' The surviving family consisted of 3 sons and 4 daughters, the 2nd son, William Forbes Skene, becoming a noted Antiquary and Historian. Lockhart, in the 'Life of Scott,' drew largely on Skene's manuscript and memoranda, which display observation, feeling, discernment, and graceful expression. Skene was an accomplished linguist, speaking fluently French, German, and Italian. He produced, by way of illustrations of Scott, 'A Series of Sketches of the existing Localities alluded to in the Waverley Novels,' etched from his own drawings. Besides contributing to the 'Transactions' of the societies to which he belonged, and editing Spalding's 'History of the Troubles in Scotland' for the Bannatyne Club (1828), he wrote the able article 'Painting' in the 'Edinburgh Encyclopædia.' The elegant full-page illustrations in 'The Memorials of Skene of Skene' are from his drawings.
James Skene was alluded to, by his great friend Sir Walter Scott, as "the 1st amateur draughtsman in Scotland" comparing Skene's artistic ability to his own writing ability by commenting that, "as thou with pencil, I with pen, the features traced of hill and glen". Although admitted to the Scottish Bar in 1797 and "having walked Parliament House" (inset) for a time, Skene was a keen artist and antiquarian and acted as the Curator of the Royal Society of Edinburgh's Library and Museum for a time. His interest in history and his love of painting is visible in many of his watercolours of the Highlands, which depict a number of Scotland's historic buildings and monuments. Although Skene has been accused of romanticising the views of the Scottish countryside, his Draughtsmanship and detailed depictions of the various castles, ancient sites, and fortifications of Scotland have given the world an important record of their state and appearance during the late 18th and early 19th centuries, The relationship between Skene's painting and his interest in Scottish History, gives an idea of how these important historical sites would have appeared during the early 19th century. Skene's architecturally detailed depictions of the many ruined castles and fortifications of the highlands demonstrate their role and use in the day-to-day life of their communities, while his sketches of the finer details of early Christian carved stones emphasis a certain fascination in their meaning. This curiosity and interest becomes even more evident in his bird-eye sketches of the lay-out plans of early forts and settlements, which are accompanied by size and measurement details. However, throughout the analytical, the intriguing and the factual base of his watercolours, what appears most evidently in Skene's work is a lightness of touch, line and stroke in his work and the ability to depict a lot, with very little.
James Skene of Rubislaw, Scott's 'excellent friend distinguished for his attainments as a Draughtsman was Curator of the Society's Library and Museum. In 1802 Skene had travelled on the continent with George Bellas Greenough, President of the Geological Society of London, whose influence stimulated his geological tastes. Skene was thus active in the interests of both the literary and physical classes of the Society. Robert Stevenson had become known to Scott as 'a most gentlemanlike and modest man' during his memorable cruise with the Commissioners of Northern Lights in 1814. In the following year Stevenson was elected to the Fellowship in recognition of his Engineering achievements, notably as Designer and Builder of the Bell Rock Lighthouse completed in 1811. He had been involved in a number of projects in the New Town, notably as Engineer of the eastern approach road by Waterloo Place and Waterloo Bridge in which, as Youngson has noted, he showed an exceptional concern for visual effect. When appointed to the committee he was completing his account of the Bell Rock Lighthouse for publication. Only 5 months previously he had obtained an introduction from Scott, through Skene, to J M W Turner to make a painting of the lighthouse from an original sketch by Skene which was published in Stevenson's book in 1824
James Skene at Frewin Hall, New Inn Hall Street, Oxford
Frewin Hall- Used as accommodation by Brasenose College, Frewin Hall was the site of St Mary's College which fell victim to the Reformation. The windows and a large part of the roof of St Mary's Chapel was used in the 17th century in the building of the current Brasenose College chapel. Remarkably, the site was a Farmhouse before it was a College and the main building sits on a 12th century Norman undercroft.

The inhabitant who gave Frewin Hall its name was tenant between 1721 and 1761. Richard Frewin, born in London and educated at Westminster and Christ Church, was the leading Oxford Physician of his time and was also Camden Professor of History. Frewin was indirectly responsible for the development of Brighton as a resort: he pointed out the value of sea water in the treatment of glandular disorders to Richard Russell, a Doctor of Lewes, and Russell moved to Brighton, with considerable success. When Frewin died he had outlived 3 wives and left his money to charity, including a bequest of £2,000, the interest of which was for the benefit of the Physician to the as yet unbuilt Radcliffe Infirmary; this bequest continues to provide £100 a year as an essay prize today. Frewin built a large wing at right angles to the original house and added a doorway to the Tudor building. In 1862 by James Skene [1775-1864], who lived at Frewin with his daughter Felicia, and died there on 27th November 1864 after a lifetime spent in Literary, Artistic and Scientific pursuits. The Dictionary of National Biography records that Skene 'enjoyed the best Literary Society' at Frewin Hall; certainly he is recorded as entertaining a distinguished Literary ghost there. In his youth at the Scottish Bar he had met Sir Walter Scott and they had remained close friends until Scott's death in 1832. Felicia Skene, who was much inclined to believe in supernatural appearances, recounted that shortly before her father died she found him one November afternoon 'with a look of radiant happiness upon his fine old face. "Scott has been here! dear Scott! He told me he had come from a great distance to pay me a visit, and he has been sitting here with me talking of all our old happy days together. He said it was long since we had met, but he is not in the least changed" ... He went on for some time describing the charming visit his dear old friend had paid him, with a minuteness which was rather startling ... How could I tell what it had been? or how could any one express an opinion on such an event?' After James Skene's death his son William Forbes Skene, a noted Antiquary and Historian, wrote to ask if he and his sister could continue the lease, 'as we have all become much attached to the place'. However, Miss Skene ceased to be a Tenant in September 1865 and with her departure presumably the needy had to go elsewhere for the portions which she used to distribute from one of the windows. It is at this point that the house 1st appears in the Rent Rolls under the name of Frewin Hall; hitherto it had always been referred to as St. Mary's College. In 1866 Edward Chapman became the College's Tenant at Frewin and remained there for 21 years. He was evidently fond of the house, for in 1877 he offered to buy the Freehold, but the College did not accept.
Sir Walter's last letter to him was dated at Malta, November 25, 1831, when he had set off in the Barham frigate in a vain search for health. It gave an interesting account of the remarkable submarine volcano, called Graham's Island, which rose out of the Mediterranean and in 4 months disappeared.
---
William Forbes Skene (1809–92): Historian of Celtic Scotland
William Forbes Skene was born on 7 June 1809, the 2nd son of James Skene of Rubislaw, and Jane Forbes, daughter of Sir William Forbes of Pitsligo. He was born at Inverie, but not, as is often asserted, at Inverie in Knoydart, the property of MacDonnell of Glengarry. He was born on his father's small estate of Inverie (or Invery), by the Water of Feugh, just south of Banchory (Skene 1887, 141). The confusion is understandable, not only on account of the name Inverie, but also because of Skene's family connection with MacDonnell of Glengarry.
Skene's father, James Skene of Rubislaw, was an Advocate, an Antiquarian, and an accomplished Artist, but above all, for more than 30 years, a close friend of Sir Walter Scott. We learn from Scott's Journal that it was Scott's habit, when he travelled up from Abbotsford to Edinburgh, to dine with the Skene's on his 1st evening in Town (Journal 1998, xliv). James Skene and his family, in turn, were regular visitors at Abbotsford. Sixty years later William Forbes Skene was to recall a visit to Abbotsford in 1831 with his father, the last time he saw Sir Walter: 'I had just attained my 21st year, and as such a visit at that early age was a great event in my life, I retain a very distinct recollection of the main features of it.' The day after his arrival, Sir Walter asked (W F) Skene to drive with him to Yarrow in an open carriage. They took a walk together, Sir Walter 'leaning on my arm . . . poring forth a continuous stream of anecdotes, traditions, and scraps of ballads. I was in the 7th heaven of delight, and thought I had never spent such a day'. James Skene had spent some time studying in Germany before being admitted Advocate in 1797, when his friendship with Scott began, founded partly on a common enthusiasm for German literature. In Scott's blackest hour, when bankruptcy seemed inevitable, he found some consolation in walking with James Skene in Princes Street Gardens. The Gardens, incidentally, had been designed by James Skene himself not long before.
Skene had many advantages for the task of a Scottish historian: a talented father, an intellectual home, a boyhood spent in the atmosphere of Walter Scott, a thorough knowledge of the Highlands and its inhabitants, a taste for languages and philology, especially Celtic, with opportunities for cultivating it both at home and abroad, ample preparation by the study of Celtic sources at first hand, and a long life. Yet all these would not have sufficed had he not possessed an historic instinct and a patriotic desire to enlarge the boundaries of the History of Scotland and throw new light on its darkest age.
---
John Gordon Cumming, Esq. of Pitlurg and Birness, Aberdeenshire, deriving his descent from Adam de Gordun, the 1st of the name who settled in Scotland in 1057, inherited in 1815 the Estates of his relative, Skene of Dyce, the eldest collateral branch of Skene of Skene, and assumed the name of Skene, in addition to his own, in conformity with a deed of entail. The name of Cumming was also an assumed one, on his father, John Gordon, Esq. of Pitlurg, inheriting the Estate of Birness, Parish of Logie, Buchan, in right of his mother, (who died in 1755), Barbara, daughter of Robert Cumming, Esq. of Birness. Mr. Gordon Cumming Skene also possesses a small property in the Parish of Fintray.
---
Skene House Outing 1856
Every year the employees of the Aberdeen Herald took a trip out of the City to a place of interest. It was their annual holiday. In July, 1856 it was arranged to visit Skene House. They set off from Aberdeen at 6 o'clock in the morning, crack went the whips, and off went the vehicles, horse drawn of course over the rattly, bumpy causeway then, with expressions of relief on to the smooth turnpike. This is now the A944 Alford Road. They noted sites of interest on the way - the Rubislaw Bleachfield, later the Quarry.
They also told tales to pass the time and enliven the journey. They were in high spirits when they turned off the main road and reached the height on which the new schools of Skene were built, and there was a general cry of "Aberdeen and time till't", as the Loch of Skene gleamed out before them in the sunshine. The Lodge of Skene House was soon reached, and in a few minutes more they leapt from their conveyances, and were greeted with a hearty welcome by David Steel, described by the author of the report, William Cadenhead, as that piece of true tempered material-honest, homely, and shrewd." He was responsible for organising their visit. They had arrived in time for breakfast, as arranged, and while it was being prepared a quiet and appreciating saunter was taken through the grounds which had been kindly thrown open to them by the residents, Mr James and Lady Duff. After breakfast the party divided themselves into groups and toured the house room by room. All were highly delighted with its elegance, its host of pictures, and its library; above all with the Sgein-dubh and Charter then kept in the house, the latter all written on fair parchment, and signed and sealed and all; hung up in the ancient Hall. "This refers to the alleged sgein or dagger after which legend has it the family are named, and also to the charter given to Robert De Skene by Robert the Bruce in 1317. After this the members of the party were free to choose how to spend their time until dinner. They could either loiter about the garden or beautiful grounds, lounge on the parterre or dern through the woods. The key of the boat-house on the Loch was obtained and some set off to enjoy a sail on its broad waters. Others were busy setting their fishing traps in order. One, an artist, went off, portfolio in hand to sketch a bull feeding in the park. Some of the group "lay in luxurious, though rather ignoble ease, and mingled the perfumes of the parterre with the delicate scent of the real Havana, and wet or whet each argumental flaw with running waters dashed with usquebaugh."
A few decided to walk or drive to Cluny and Castle Fraser which gave them a wonderful appetite for dinner as judged from the magical way in which viand after viand disappeared from the table afterwards! At half-past 3 by the Castle clock, the dinner bell pealed out its welcome summons; and thanks to the exertions of that worthy son of Soyer, Mr P. Machray (whose services had been retained for the occasion), a most sumptuous feast of salmon, roast lamb, and boiled mutton smoked on the board. Tea, coffee, fruits, cakes and liquors were also distributed by David Steel. The health's of Mr and Lady Duff were drunk with enthusiasm and when the punch began to circulate many sweet songs were sung. All agreed that they would never forget the tea and coffee which were served "under the greenwood tree", the music from the balcony which followed, nor the merry dance upon the greensward, ram-reel though it was, to the stirring strains of their own especial prize piper, leal Murdoch McLeod. And so, to leave the last word to the Poet William Cadenhead when the last gleam of the setting sun began to fail on the tops of Corrinnie and Cairnwilliam, and when the misty clouds came down as if to suckle at the paps of Bennachie, when the last hurra told that the lodge-gates of the "Castle of Indolence" where we had so greatly enjoyed ourselves, were now passed, and there broke out the sweet flute-like tones from a neighbouring wood, O will ye no come back again? There was not a heart but responded, Better lo'ed ye canna be - we couldna but come back again."
Cadenhead it was who wrote the article in the Herald. He also composed a long poem describing aspects of the legend of Skene, which he attributes to Robert Bruce. This is just one verse:
The falcon was unhooded
And it spread its good grey wings
And up as the lark from the dewy grass
At the dawn of morning springs
Up like the lark the falcon flew
And wherever it took its flight
By loch or lea, by rock or tree
It was the Skeen's by right
Marriage of James Duff and Lady Agnes Hay As a follow on from the above story the following account is of a celebration at Skene House in honour of the marriage of James Duff to Lady Agnes Hay, though the newlywed couple were not present. A large party consisting of the Tenantry, and a number of gentlemen from Aberdeen and Kintore sat down to dinner at 5 o'clock. John Blaikie of Craigiebuckler occupied the chair, and Messrs Walker of Fintray and Milne of Fornet acted as croupiers. Various toasts were called, including the Army and navy. Representing the latter were Captain Farquar R. N. and Captain Skene Tayler R.N. The former had distinguished himself on the coast of Syria, and the latter in the engagement with the Chinese showed that the blood of the Skenes of Skene still flowed in his veins. In the toast to Mr Duff and Lady Agnes Duff, the chairman reminded the company that Mr. Duff was a descendant of Skene of Skene - that he was heir apparent to the titles and honours of an ancient family. The bride too was sprung of good stock, many of whom had borne conspicuous parts in the history of Scotland from an early period. In the course of the proceedings, a deputation consisting of the chairman, Mr. Milne of Fornet and Mr. Adam, as staid persons, and Captain Farquhar and other 2 of the bachelors present - waited upon the married ladies, who had had a tea-drinking in the room below, and there and then drank the health of the newly married couple in a bumper. About 9 o'clock, the whole party adjourned to a large barn loft, which had been handsomely fitted up as a ballroom. By this time, the young folks had gathered in great numbers, and dancing commenced, and was carried on with much spirit. About midnight the Aberdeen party, after partaking of some refreshment and a good tumbler of punch, took their departure, and drove home as comfortably as they could through the drift, which, by this time, was "driving sairly." The dancing was kept up till morning by the young folks, who wisely took the benefit of daylight to go home with. It is only right to mention that the departure of the Aberdeen party caused no small sensation in Union Street. Besides smaller independent vehicles, there were 3 turn-outs of 4 horses each, with outriders and wedding favours. The dinner and other refreshment at Skene were excellent, thanks to the assistance of the cook of the Royal Hotel; and the wines and spirits were abundant and of 1st quality. From Aberdeen Journal, 25th March, 1846.

Lady Agnes was something of an innovatory interior decorator and is credited with the transformation of the inside of Skene House. Some of her work still survives as was seen by those of us who visited the house last year. Jim Fiddes
There is a small private burial enclosure for the Skene family, thought to have been created in the 19th century. It is located on the banks of the River Don at Mains of Dyce. There is now a large school nearby and a 20th century housing development to the west. A sewage works has been built alongside the burial enclosure. There is no suggestion or evidence that this site was ever a place of worship.